---
Santa's Woods
3764 State Highway 133
Blair, NE 68008
(402) 426-5250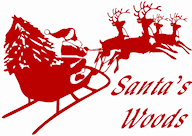 Christmas is a time of Celebration
with Friends and Family.
Begin a new tradition and build memories
for generations to come at Santa's Woods!
Thanks for stopping by for our Santa's Woods coupons!

---
Hey, thanks for stopping by for our Santa's Woods coupons.
Fill out the form below and we'll also send you our Coupon Link and Christmas Tree Recycling Information just as soon as we have it available around Christmas Day; generally no later than December 26.
Also, please note we accept electronic copies of the coupons as well so you can save both time and paper.
Just show us the link on your phone.

If you have already registered and received emails from us before, there is no need to re-register as this list is carried over year to year.
If you haven't gotten any emails from us, or changed your email address, please re-register!
As a reminder, we dislike spam as much as all of you and we will respect your privacy.
We will only use your email address to send you our periodic Season Newsletter and coupons that we are offer at various times during the year.
And to stop receiving them, all you have to do is reply with REMOVE as the subject.
This information is always provided at the bottom of each mailing.