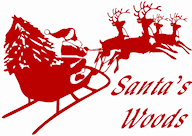 Christmas is a time of Celebration
with Friends and Family.
Begin a new tradition and build memories
for generations to come at Santa's Woods!
We make it easy, fun, safe and convenient here at Santa's Woods.
See the Reindeer!
All you have to do is just pick out your perfect Christmas Tree!
And don't forget to check out what the rowdy elves are up to!
Tree Prices
Field Trees range in price from $10-20/ft depending on variety.
We have over 11 varieties growing in our fields. Some of our more common popular varieties are listed below.
We believe in the complimentary services because it makes Christmas safer
and more fun for the entire family!

we cut your tree and haul it in
we'll shake it out (so there's fewer old, loose needles)
(psst. do you have a drilled tree stand? We can do this, too! Just let us know when you come to pickup your tree and we'll drill it for you!)
we'll bale it in netting (so it can fit through your front door) and
we even tie it on your car for you! (Does it get any easier?)
Don't forget about the Christmas Tree Removal Bag.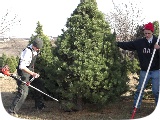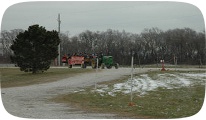 While we're doing the work, go have fun! Relax in our original 100 year-old Vintage Selling Barn and Gift Shop that's been on the homestead for decades!