---
Santa's Woods
3764 State Highway 133
Blair, NE 68008
(402) 426-5250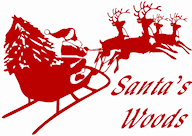 Christmas is a time of Celebration
with Friends and Family.
Begin a new tradition and build memories
for generations to come at Santa's Woods!
The ongoing pandemic has altered many parts of our lives but we hope the tree farm experience and beautiful Christmas tree in your home will provide a sense of normalcy, togetherness, and unity for your family and friends. Santa's Woods is committed to providing a safe and healthy workplace for your family and our staff.
To ensure we have a safe and healthy workplace, we have developed the following COVID-19 Preparedness Plan in response to the COVID-19 pandemic.

Masks are optional for your family but are strongly encouraged when indoors or when it is difficult to practice 6 ft Social Distancing.
All of our staff are required to have daily temperature checks before they clock in. They are also required to wear masks.
Touch surfaces will be regularly disinfected and there are hand sanitizing stations around the farm.
During Pretagging, all clipboards, markers and measuring poles are disinfected after each use.
When we are open for the season, all poles will be disinfected before reuse.
We have separated Cashier stations into separate buildings.
You can also park in our lower parking lot and walk to the front field instead of taking a hayrack ride.
Finally, by visiting Santa's Woods

, you voluntarily assume all risks associated with COVID-19.