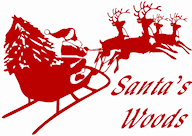 Christmas is a time of Celebration
with Friends and Family.
Begin a new tradition and build memories
for generations to come at Santa's Woods!
Scotch or Scots pine is an introduced species which has been widely planted for the purpose of producing Christmas trees. It is an extremely hardy species which is adaptable to a wide variety of soils and sites. As a Christmas tree, it is known for its dark green foliage and stiff branches which are well suited for decorating with both light and heavy ornaments. It has excellent needle retention characteristics and holds up well throughout harvest, shipping and display.

The needles of Scotch pine are produced in bundles of two. They are variable in length, ranging from slightly over 1-inch for some varieties to nearly 3-inches for others. Color is likewise variable with bright green characteristic of a few varieties to dark green to bluish tones more prominent in others. The undersides of Scotch pine needles are characterized by several prominent rows of white appearing stomatal openings.
And don't forget the tree stand.

Click here for the best tree stand in the world; made right here in Nebraska.
It will be the last stand you ever buy.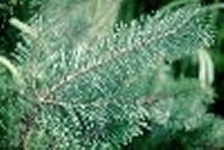 We have all types of Christmas Trees, including Grand Champions!
Canaan Fir
Concolor Fir (White Fir) 2006 State Fair Grand Champion!
Douglas Fir 2008 State Fair Grand Champion!
Fraser Fir (Frazer Fir, Frasier Fir) 2007 State Fair Grand Champion!
Scotch Pine
White Pine (Eastern White Pine)
Photo courtesy of National Christmas Tree Association. Excerpted from NCTA information prepared by Dr. Melvin R. Koelling, Michigan State University